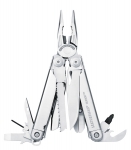 -Price Paid: N/A
-Used for Other
-Owned for Greater than 1 year
Comments:
I got this as a souvenir from a friend and I fell in love with Surge right after I got it out of the box.
This is large and heavy multitool but then again it's not ment for light tasks. This is heavy duty tool with you could fix pretty much everything (even a marriage if you receive this from your spouse as an appology).
Surge has all the basic tools plus two bit drivers, one for normal sized bits and one for small. My Surge came with additional bit kit that includes flat/phillips/trox heads.
I have always thought that multitools with scissors are for women but Surges scissors are actually VERY good. They are spring loaded, sturdy and as sharp as the blades. Surge has a replacable bit for file or saw (both comes with the tool) or you can even buy a 8cm sawblade from the hardware store because you can fit a standard bosch/skil blade on the tool.
So Surge isn't filled with tons of tools but the tools that are in are sturdy. The Pliers are very good but not spring loaded nor the pliers have replacable tungsten bits for wire cutting.
Even the tool is big, it fits to hand nicely without feeling clumsy. If you need a really heavy duty multitool, Surge is a safe bet.