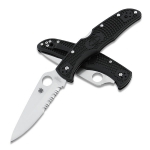 -Price Paid: $60.00
-Used for Every Day Carry
-Owned for Greater than 1 year
Comments:
I've owned two of the Endura knives from Spyderco as well as other Spyderco and Byrd knives. I also collect many other knives, both fixed blade and folders. They all see their fair share of use as well. Since my knives see a good bit of use, I routinely clean my knives, dry them, apply oil, and tighten all frame and pocket clip screws to be sure they are secure. Usually 1 or 2 screws will loosen up over time.
My main problem has more to do with Spyderco as a whole and partially to do with the Endura. I've had problems in the past with both Spyderco and Byrd pocket clip and frame screws stripping on me. The fact that Spyderco knives are the only brand of knives that I've ever had this problem with leads me to believe that Spyderco just uses sub-standard screws in their knives. I've never had these issues with any of the other brands of knives that I own.
After having an Endura frame screw strip on me recently, I contacted Spyderco customer support and they informed me that stripped screws are not covered under warranty, and because their knives are not made here in the USA, they do not stock parts for their knives. The only parts that they can replace are pocket clips and pocket clip screws. They do not carry frame screws.
The only other option that they could offer me was to buy a repair kit for $20 that is only made for Endura and Delica knives. This repair kit includes replacement FRN scales, steel liners, screws, bushings, etc. (So ultimately I would be paying $20 for 2 torx screws that probably cost about 3 cents.) Also keep in mind that these repair kits are ONLY offered for Endura and Delica model knives, so if you own another, possibly more expensive model, then you would be out of luck!
So after speaking with customer service, they basically told me that there is nothing they can do about stripped frame screws. Even if I paid to send my knife to Spyderco, they can't fix it because they don't have the parts and screws are not covered under warranty so they will not replace the knife either. Bottom line, I'm out of luck and the knife is now garbage because of measly defective screws! This is ridiculous people! Thank god I didn't strip a screw on a really expensive Spyderco knife huh!
Now, as far as I'm concerned if a knife is sent back to the company for repair and it can't be fixed due to defective materials, or even because the company is just too dumb to stock replacement parts, then they should be liable to replace the product! I don't know about everyone else, but I don't feel very confident carrying a knife from a company that offers no assurance of being able to help you when something goes wrong! Needless to say, I won't be carrying anymore Spyderco products after finding this out.
As far as my ratings are concerned,
Overall = 3 because of Spyderco's piss poor warranty practices. I would give a 0, but I gave 3 because they do actually use very nice steel in their blades.
Ergonomics = 7 the grip is okay but not super comfortable.
Build Quality = 3 due to their horrible quality screws that constantly strip.
Value = 3 Because regardless of my personal issues, I believe Spyderco knives are horribly overpriced anyways.
---
Comment by Darvin 03/02/2015
I own several Spyderco knives, including the Endura. All of them are good knives. I've had no real problems at all. I have noticed a loose screw on them and on other knives too. That isn't a problem for me. Any knife that I carry, as a standard operating procedure, I place a tiny drop of blue locktite (sp?) on every screw on the knife. I've carried knives all over the world. I've never had any screw related issues with this procedure in place.
---
Comment by maximushusky 03/26/2014
Although in all the spydercos that I have owned, I have never had any problems with screws stripping, I am sympathetic that you had to deal with poor customer service. However, a lot of the reasons that you give for giving this knife such low scores seem mostly based on this one bad experience with customer service, and not the knife itself. Even if the screws did strip, you still would have gotten a super lightweight, knife with a great VG-10 blade for the price of $60. i'm not quite sure what about that seems overpriced to you, but if you going to make a statement like that, you should probably please include some reasons. One last thing, why were you tightening the screws so often? I have had my endura for 2 years, and have never had to tighten any of the screws.