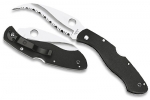 -Price Paid: N/A
-Used for Other
-Owned for Less than 1 Month
Comments:
I paid 150 for this knife brand new.
Its mainly a collection piece. I can't wait until they have a sprint run of the matriarch so I will buy 2. One for carry and one for collection.
---
Comment by Pete 07/10/2015
No thumb Jimping, no deep finger grooves, no provision for a left-hander clip and you give "ergonomics" a 10?I paid $170 for this knife as was disappointed.Fortunately, Cold Steel is sending me a far superior Black Talon II for about half the cost of the Spyderco.And what's with have a liner on one side only?Blade design and serrations are great, the rest of the knife is a mess.Oh, and "Value" a "10" - not at $150 CS has come out with a better knife, better ergonomics, better steel, thumb plate opener, etc.. for $100 and that gets you CTS-XHP steel which blows VG10 away.
---
Comment by neil 02/07/2015
I needed more of an indepth review, tbh I`m just trying to justify buying one!
---
Comment by Diego 05/11/2013
Wow, awesome review dude. Not.