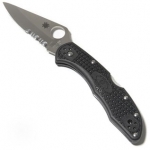 -Price Paid: N/A
-Used for Light Duty/General
-Owned for Less than 1 Month
Comments:
When it came in the mail it was completely dull. The first time I opend it it was good. The second time it broke. :(
---
Comment by Stuart H. 07/27/2015
A new "Delica" that was dull and broke when opened twice...Right, and you owned a diesel "Jetta" that crapped-out at 10,000 miles!
---
Comment by Burla 11/20/2014
I just don't believe you. This is easily one of the top 5 every day carry knives, the vg10 is second to none. I have it as my number one in stainless with serrated. The fact that you put it came dull means either you are just lying or you didn't get a Spyderco. I have more spyderco's then all other knives combined, never has one came dull.
---
Comment by Ernie 09/07/2012
Oh I get it...tickle me Elmo, ha, very non-entertaining. I know it is a joke because this describes no Spyderco I have ever been around or heard about.
---
Comment by lvnvknifenut 02/08/2012
Send your knive back tob Spyderco, Its rare for a Spyderco any model to brake ,Are you sure you knive was a real Spyderco ..Sounds like a copy ,I dontn believe you...
---
Comment by Adam 04/09/2011
I think you are full of it and if you dont know what you are talking about dont be bashing on one of the best knifes i ve owned and one of the best knife makers you just need to stop talking shit
---
Comment by Tom 04/01/2011
You really broke your Delica the second time you opened the knife? What part of the knife failed? Sounds like this would be a warranty issue unless you opened the knife with a hammer ;-)