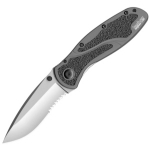 -Price Paid: N/A
-Used for Light Duty/General
-Owned for Less than 1 Month
Comments:
I purchased my Blur as a factory blem, and as such I paind $40 for it. It is a very well made knife, but I would not be as satisfied if I had paid a price closer to the $139.95 suggested retail price.
The knife is very nice in hand, with T6 aluminum handles and a rough-textured "Trac-Tek" insert material that is rough textured enough to provide good grip even in wet, slippery conditions. The somewhat rubbery surface of the Trac-Tec tends to grab the liner of your pockets, which causes some interference when trying to pull the knife out of your pocket. I think this would wear on the fabric of your pants if you used this knife as your working EDC.
The clip is small and does not have the goofy styling of some of the other Kershaw clips, and so the knife does not stand out when carried. The clip is reversible for tip up or down carry. The end of the knife sticks up abour 1/2" out of your pocked when clipped in - I prefer the deep-carry style of clip such as that found on the SOG's.
The blade is a modified clip-point, with a nice thickness that gives you confidence that this knife is made to be used hard. My knife has the composite blade, consisting of a 14C28N spine with a ZDP-189 cutting edge. The two steels are brazed together using a copper-colored braze. The two billets are lazer cut with an interlocking pattern that ensures not only a strong bond but also a unique and desirable aesthetic.
The blade is 3.38 inches long, with an overall length of 7.5 inches open.
The knife is a liner lock, and the lock is strong and positive. On my example the lock was at around 60%, and the blade is perfectly centered. There is no blade play detectable in hand.
The weight is listed at 4.2 ounces. I would have guessed it is a little lighter, but did not weigh my example. The knife's balance favors the blade, as the handle is quite light and the blade is thicker than other Kershaw knives I have (Leek, Centofante).This is the most robust and rugged feeling Kershaw I now own.
I find little to quibble with about this fine piece of American cutlery.
---
Comment by Ray 07/18/2011
I love the blur. It came with a poor edge but I'm good a knife sharpening so this didn't worry me. also the pocket clip needed a bit of work to make it perfect and I needed to adjust the pivot screw. Now it's one of my favorite EDCs.