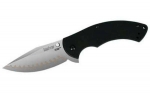 -Price Paid: $59.00
-Used for Every Day Carry
-Owned for 3 months
Comments:
Like everything else that's USA made by Kershaw, the Rake is another well built, solid, and dependable knife. The composite blade, with cpm D-2 holds an incredible edge even after some rough use.
The fit and finish of the Rake is great. The blade just about perfectly centered when closed and locks up solid when open, with absolutely no blade play. One of the big pluses for me with the Rake is the large belly of the blade, which gives a lot of leverage while cutting.
The only minor negative for me is that the Rake is assisted opening, which I'd just as soon do without.