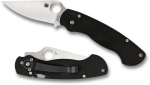 -Price Paid: $110.00
-Used for Every Day Carry
-Owned for Less than 1 Month
Comments:
The Spyderco Paramilitary 2 is an absolutely exceptional knife. It is my most recent EDC knife, which arrived after 5 months of waiting. I wanted to do a review asap but had to wait at least a month so I could carry it and use it to provide accurate feedback.
That said, out of the box the knife was dialed. Blade was dead center with no play, everything was tight, everything lined up and matched up well. The grind was good, and obvious attention to detail was paid. The knife would be perfect on build quality, except I had to ding it a point because the clip is slightly loose. If you apply pressure side to side at the bottom, the clip will rock back and forth every so slightly. I don't clip my knives, so it's not a major bother, just a nitpick.
For ergonomics, it fits my hand very well. I have a large palm and average length fingers and I wear the knife like a glove. The hole on the blade is large and makes for fast deployment. I find it very easy for my thumb to find the hole without looking, which is to say I'm very precise with blade deployment. I still had to ding the knife a point on ergos for the reason that the lock require a serious change in grip to disengage, as well as either a leg or second hand to close the blade. I knew this going in, but it's really one handed open, two handed close.
The blade is solid so far. I notice no degradation of the edge thusfar. The knife has held an edge with no visible chips and still feels very sharp.
A few other features I like are the liberal use of jimping, the nice large lanyard hole, and the fact that Spyderco finally got a clue and allowed for both tip down and tip up carry, unlike the past Paramilitary. I also like the fact that Spyderco is experimenting with high volume low margin sales on this one, because I got it for roughly 110 shipped, which is a steal, particularly considering the old, lesser refined Paramilitary 1 costs upwards of 140.
Overall I'm extremely please with the knife, particularly with price in mind. If you can get used to the compression lock, I highly recommend the Paramilitary 2.