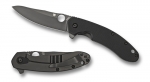 -Price Paid: $407.00
-Used for Every Day Carry
-Owned for 6 months
Comments:
I have to say that i'm from Italy, so you understand the atypical price and the "strange" English.
The first time I saw this knife on web i fell in love with it.
The first time I folded this knife in my hand my love grew...
I think that the look is amazing, and so is the size and weight, optimal for my concept of an EDC knife.
The open mechanism (flipper) works great, and you can easily open/close the knife with one hand. The linerlock is thick but not hard to push. The blade uses a good steel (CTS 204P) and it comes very sharp out of the box.
The handle, probably, could be improved in the look, but the g10 grip is one the best you can find.
I have many EDC knife but this is, for sure, one of my favorites