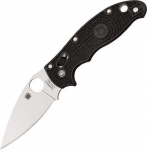 -Price Paid: $110.00
-Used for Every Day Carry
-Owned for 3 months
Comments:
I have the CPM S110V version. I use it every day for eating, food preparation, fileting, cardboard cutting, cutting vegetables, etc. I can't feel when i am using: light and comfortable. CPM S110V edge retention is extremly long, but take care the brittles. Not for hard plastic, hard wood, cutting bones, etc.
I think the CTS BD1 version is tougher.
Tha lock mechanism is stable, no blade play.
The FRCP handle is stiff, only a little flex, if I hold hard (other spyderco frn handle is more flexible). Like a work knife, the a build quality not high end (mechanism, edge etc. ok, but not fine work). Made in USA, but nowdays spyderco top quality came from the Taiwan factory.
Light, soft material cutter workhorse.