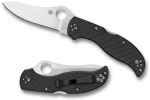 -Price Paid: N/A
-Used for Every Day Carry
-Owned for 3 months
Comments:
This is hands down the best folder I own, period. Mine is the FRN version, and I love it. The ergos are superb; it fills the hand well.
The flat grind makes it a great cutter. I'm sure you all know how great VG-10 is, so I don't need to say anything about that. The thumb and forefinger jimping work great. The deployment hole is bigger than that of the Delica and Endura: at first I didn't like it, but now that I use it more often, I think it's more comfortable.
Locks up solidly without any vertical or horizontal play. Screw construction in case you feel the need to (or want to) disassemble it and clean it out. The only reason I marked a 9 for build quality is because the tip is not centered when closed; it sits a bit to the left. It doesn't affect the function, though.
And value is a 9 because you would think that the FRN Stretch would be around the price of a Delica or Endura, but it's quite a bit more (maybe because of the flat grind, or so they say.)
All in all, you'll be hard pressed to find a better knife. They really don't get much better than this.
---
Comment by exmaxima 04/07/2014
I've owned at least 50 knives over the years, but my ZDP-189 Stretch is my first choice when leaving the house. Great ergonomics, lightweight, fast deployment, perfect blade size, and stays sharp a long time. Sold my Sebenza cuz it got dull too easily and was getting no carry time. Highly Recommended!!
---
Comment by B.L 01/07/2013
Totally agree, came out of the box as one of the sharpest knives I own(in zdp-189 steel). After a month of reasonably intense use, still no need for sharpening.Handles well and is very ergonomic. If I had to nitpick, it is a little bit too big for an EDC.Great knife if you are willing to spend some money. 9/10