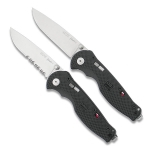 -Price Paid: N/A
-Used for Every Day Carry
-Owned for 3 months
Comments:
SOG Flash 2 1/2 serrated w/ new arc-lock system
This is a review for the arc lock version of the SOG Flash 2 1/2 serrated.
Overall, this is a good sized EDC/tactical folder. I noticed it has quite a bit of weight to it and feels completely different from the tiny Flash 1 which I reviewed as a "toy knife"
The Flash 2 is a damn fast knife, one flick and the blade shoots out lightning fast, hence the name flash! Anyways, the blade is razor sharp out of the box and the arc actuator is a nice addition from the original slider lock release which rattled, made noise and felt quite cheap. The arc lock is a smooth crown like thumb stud and does not move/rattle freely.
Like other SOG folder, there is a safety lock which is quite pointless, and I actually accidentally activated it in my pocket and went to open the knife, only to find out it was locked.. in some situations this can mean your life, so I recommend gluing it.
My one problem with this knife, as reviewed by a famous youtube knife reviewer "BLUNTTRUTH" is that the handle has that strange cutout groove as if SOG was trying to make it grippable? in two positions, but it does not work either way. When you hold the knife it is quite awkward and uncomfortable. Also, there is ZERO gimping or traction on top of the blade, but instead some pointless ramp that goes up with a bit of texture and does not deliver any utility.
Overall, I would actually recommend the SOG Trident over the Flash 2 as an EDC/tactical blade because it does everything right.. a GREAT and large/comfy handle, GREAT gimping, and a smoother working arc actuator with no hiccups.
overall the Flash 2 is a fine knife for EDC if you want a "work knife" to open fast and cut well and don't mind jacking it up. I give the flash 2:
6/10
---
Comment by Jon 03/20/2012
This knife does NOT have an "arc" lock.