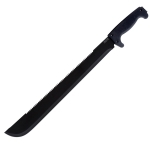 -Price Paid: $20.00
-Used for Other
-Owned for Greater than 1 year
Comments:
Suggest a knife... well I suggest you do not buy this machete unless you are chopping down brushes or something soft like bamboo.
I walk daily in the woods on trails created by me and my wife and especially after heavy snow fall there are trunks and branchess all over our pathway so I needed something to cut them down.
SOGFari is a light weight machete with a hand saw serration on the back and it has very comfortable rubbery handle.
After one hour the edge was pretty much bent out of shape, the serration was pretty much useless (unless you are willing to spend an hour or two to sharpen the thing). Problem wasn't the 10" diameter trunks but the more sturdy branches. When you hit the branch with too steep angle the blade bounces of leaving a dent on the edge.
I think SOGFari is at its best in the rainforest or with bamboo trees where the things you cut down are a lot softer than the trees here in Finland.