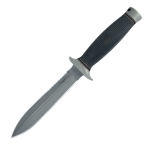 -Price Paid: $70.00
-Used for Self Defense
-Owned for Greater than 1 year
Comments:
I don't know if it's even wise to write a review about a knife that isn't been manufactured anymore, but you still can get this from stores.
I bought this knife mainly as a boot knife, but the sheath that came with it ruined the idea.
Daggert 2 as the name applies is a daggert. Straight serrated edge ending with a kraton rubber handle. Daggert 2 has a solid steel finger guard, handle provides a good grip and at the end of the handle on a steel knob there's a hole for lanyard.
As for daggers, this knife isn't very good at carving wood, but in a situation where this is your only knife, it will do just fine. For EDC/Survival/Outdoor use this isn't at it's best.
Only negative about the package is the sheath, which has this bulky and ugly quick-release belt loop. I recently took the belt loop thingie away and replaced it with nylon loop.