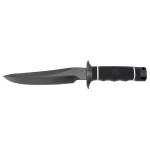 -Price Paid: $100.00
-Used for Outdoor/Survival
-Owned for 1 year
Comments:
This is a great blade, I did not think I would like the design till I got it in my hands. The spine is 0.24 inches thick and the tip is great for stabbing. The knife excels at carving, stabbing, and batoning. However, its not a very good chopper compared to some other knives in its size and weight class like the BK7. You can checkout my youtube review and see the RECON in action.
---
Comment by Daniel Dolan 08/06/2016
I received one of these as a gift. It is a second-rate Taiwanese copy of a Randall number one. Poor finish on the blade and a ill-fitting sheath.