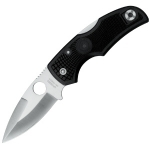 -Price Paid: $35.00
-Used for Light Duty/General
-Owned for Greater than 1 year
Comments:
The only reasons I bought this knife is was price and the steel
S30V and being US made.At this price it's a pretty good bargain.Good luck trying to find on now at that price.
What they cost now is way to much 60-80 buck.For the
money you can easily get much better built knife.Al tho
with a lesser grade steel.I only use this a a light duty
knife.As it has no liners and as such isn't up to tactical
use.The fit and finish are very good.Also the materials used make it a good knife for the price I paid.If you can find one
at the 35 price I'd say buy it. But otherwise it's like most
Spyderco knives overpriced for what you get.I don't mind
paying for knives if they're made accordingly. But at these
higher prices I'd look elsewhere.