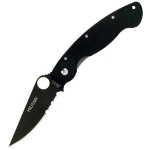 -Price Paid: N/A
-Used for Every Day Carry
-Owned for 6 months
Comments:
The Spyderco Military. My first large folder, when I asked for suggestions everyone said that the Mili was the one that would define all future large folder purchases. After getting it, I'd feel the same.
Let's have a look. Handle material, orange G10. Two nested SS liners, 4mm distally tapered double-flat-ground CPM S30V blade, 4 inches.
The blade first. CPM S30V is a great steel, especially as done by Spyderco. The blade came sharp enough to push cut newspaper, although I've since reprofiled it. It's fairly thick, although the combination of FFG and blade "height" makes it surprisingly thin at the edge. It slices well, but feels strong. The steel holds a good edge (mine is at 1000 grit). It stands up to wood carving and EDC duties easily.
The blade shape is very nice. The straight spine is good for food prep, while the sweep to a point gives a straight portion with a bit of belly for slicing. The point is fine and needle sharp, but will stand up to tasks such as puncturing cans.
The handle is a bit big for me. However, there's a very comfortable purchase on the handle. The forward finger choil is really useful for fine work as well. I use it a lot. The liner lock cutout is very generous, which I like, being a lefthander. Orange G10 is nice and rough, and colourful too. It's the perfect colour for an outdoor knife, imo. The Mili pockets very comfortably for a 5in closed length. I'd like to see a 4-way clip on this though.
In terms of fit and finish, this blade isn't quite on par with my SS Delica. The back spacer is just slightly raised, and the edges of the clip aren't polished. Otherwise, the attention to detail is pretty great. I received the knife with the pivot screw stripped out, but it was previously owned and carried so I doubt this was Spyderco's error. The blade locks up solidly at 40 percent engagement. Some rust has developed on the blades (really humid here) which I have cleaned off with some metal polish. The only reason why the MILI isn't a 10 is because of these tiny flaws (non-issues on my SS Delica)
What don't I like about the knife?
I've since found that my taste in blades is simply different. I find myself leaning towards either pure-slicer (Stretch2) or pure tank (Manix 2). The Mili does both jobs well, but neither perfectly. It's a fine blade though.
I would like to see it with a 4 way clip, as mentioned above.
I would also like to see a slightly shorter handle.
Finally, put a compression lock with the same generous cutout on, and then I'm all happy:D
In terms of value, I paid 125 dollars for this knife. It can be gotten for less, and I'm sure I got more than $125 worth of use out of it. Despite my nitpickings, it's really an excellent,excellent knife,.