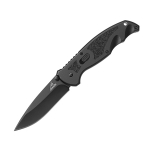 -Price Paid: N/A
-Used for Every Day Carry
-Owned for Less than 1 Month
Comments:
forHuntersbyHunters teamed up with some of the largest knife manufacturers to look at their most affordable folders. We'll publish a review each month and give away one knife with each review. Check out our Facebook page or register on the 4HxH.com forum to find out how to get in on the action. This month the staff reviewed the Freeman Guide folder from Gerber.
Before we get into the details on this great new knife, here's a little bit of history on the company. In 1910, Joseph R. Gerber started Portland, Oregon's Gerber Advertising. Prior to the Christmas of 1939, Joseph had a local knife maker craft 25 sets of kitchen knives for his clients, as gifts. Due to the overwhelming response these knives received, an idea was had. With the help of Joseph's two sons, Gerber Hand-Made Blades was born, which became what we all know and enjoy today as Gerber Legendary Blades. Today Gerber isn't just a knife company, they're an engineering company that creates tools and outdoor gear to suit many different needs. They are now producing axes/machetes, personal L.E.D. lights, and backpack hydration products. Gerber offers many styles and designs of fixed blade and folding knives, as well as an array of multi-tools designed for hunters, anglers, shooters, active outdoors people and our hardworking men and women in the United States Military. Hats off to you Gerber for simplifying our complex lives.
The Freeman Guide is exactly what you would expect from Gerber. It has all of the ingredients; ingenuity, craftsmanship, functionality and attention to detail. These are all key components when designing a knife that is built for work, not show.
The Freeman Guide would be considered an all purpose outdoors man's folding knife. The Freeman boasts a 1/8" thick, 3.6" long, full fine edged, high carbon stainless drop point blade, with large ambidextrous thumb studs. The spine or "false edge" has serrations from the thumb studs back, which continue to cover the edges of the rest of the handle to ensure a solid grasp. If that isn't enough the attached grip plates on the liner have a TacHide onlay, which is a grippy rubber coating that provides a positive grip in wet or dry conditions. The Freeman has a sturdy liner lock that provides a stable and secure blade when open. The liner lock also has a blade retention feature that helps keep the knife closed when not in use. With its hefty blade and handle this knife weighs in at 6.6 oz. That's slightly heavier than your average folder, but that's okay, because this isn't your average folder. Although it may be a little on the larger side for a womans hand, with all of that mass behind the razor sharp edge, cutting and light chopping are easy tasks with this blade. With comfort in mind this knife almost feels as if it were form fitted to your hand. The butt of the knife does not have a lanyard hole, but a 7/8" slot that could accept just about anything from 550 cord to webbing. When not in use the knife stores in it's ballistic nylon sheath that can be worn either vertically or horizontally on your belt.
Staff Feedback:
John MacPherson - forHuntersbyHunters Pro Staff - 704 Outdoors
This is a tool for the professional outdoors man. It fits the hand comfortably and grips great wet or dry.
It arrived just in time for me to try it out on a spring turkey harvest which it boned out the breast with ease. I expect no less when I use it on hogs and deer. If you are looking for durability this is the knife. It has no flex anywhere and stayed sharp throughout the cleaning of the turkey. The liner lock is rock solid. The easy one hand operation could make this my new go to knife. I would absolutely recommend to my hunting friends, and would not want my enemy to have one!
Brian Barham - forHuntersbyHunters Pro Staff
After playing around with this knife and cutting just about anything I can get away with, I can say that overall it's a great knife for the price. The knife balances very well in the hand, and just because I had to, it throws nicely as well. After cutting anything and everything and using a large pine tree as a target the blade was still very sharp. A few quick swipes over a diamond hone and it was back to "shaving sharp". The blade has a satin finish that aides in smoother cutting, with less sticking that is more common from a polished blade. With the TacHide grip I had a solid hold on the knife, even when covered in mud. With that said, because it is a liner lock, it has an open spine which made clean-up a cinch. My only criticism would be directed towards the type of screws that hold the knife together. The screws are Torx head, and the average user might not have these tools readily available should the need to tighten one arise. Although I don't consider this a big deal, it would make it slightly more user friendly. Suffice it to say, this is the only "not so good" thing I can say about this knife as of now. Unless it falls apart after this review, I can say that I would recommend this knife to anyone that is looking for an affordable, all purpose knife, which seems to be able to stand up to the harshest conditions.
Ed Valentine - forHuntersbyHunters Pro Staff
My first impression of the knife was the weight. I like some weight to my knives and this one has it and was very sharp out of the box. I wouldn't recommend attempting surgery with it but it is a worker and for the price, the knife is a good value. The TacHide material makes grip while wet a non issue. The blade locks solid and the size is perfect for a multipurpose camp/hunting knife. Honestly, I can't find a negative thing to say about it. Gerber hit a home run here. I can see myself carrying this while hunting or camping in remote areas and the price gives me piece of mind to not worry about losing it as I do when carrying much more expensive knives.
Here is the warranty information directly from Gerber's website.
Limited Lifetime Warranty: Gerber warrants to the consumer that this product will be free of defects, in material and workmanship for as long as you own the product. This warranty does not cover damage due to rust, accident, loss, improper use, abuse, negligence, or modification of or to any part of the product. Normal wear and tear is not covered under the warranty. If the product failed while being used as it was intended to be used, we will service under the warranty. At Gerber's option, defective product will be repaired, replaced, or substituted with a product of equal value.
To see Pictures visit http://forhuntersbyhunters.com