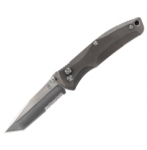 -Price Paid: N/A
-Used for Every Day Carry
-Owned for Less than 1 Month
Comments:
Have had this knife a few weeks now. I find that it opens fast, maybe too fast at times. The blade was very sharp right out of the package, and the serrations will cut through nearly anything I throw at it. The Titanium handle feels comfortable in hand, yet not quite as ergonomic as some of my Ken Onion knives.
Looking forward to seeing how the blade holds its edge over time.
Overall a very attractive and functional knife that I would recommend checking out.