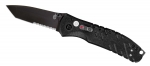 -Price Paid: $85.00
-Used for Every Day Carry
-Owned for 3 months
Comments:
This is one of Gerber Knives better quality made knives.
GOOD- great tanto design, fast open assist, G-10 handles have lots of traction, USA made, tough blade.
BAD- paying $85 for the 420HC model when the s30v model is $20 more,the traction on the thumb studs and handle is too aggressive for EDC use, this blade is made for military and law enforcement and to be used with gloves.