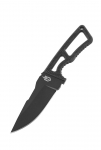 -Price Paid: $40.00
-Used for Self Defense
-Owned for 3 months
Comments:
I had high hopes for this knife since I support company's efforts to make their products in the USA.
First problem I noticed was the pins that retain the knife in the sheath scrape against the blade's edge and dull it with every extraction. I've tried to draw it carefully, but it still destroys all of my hard work getting a scary sharp edge.
Next problem is that the rubber handle coating is beginning to tear and separate with very light carrying / use. I'm not even sure how it happened.
Again, my hopes for this knife were high, but I was somewhat let down. It would nearly be perfect if it wasn't for those problems.
---
Comment by Ryan 08/24/2015
This one is. It's made in Oregon, not China like most Gerbers.
---
Comment by Carl 11/20/2014
Are you aware that Gerber knives are not made in the USA??