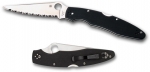 -Price Paid: $119.00
-Used for Every Day Carry
-Owned for 3 months
Comments:
If you are looking for a big bladed folding knife the Spyderco Police 3 is definitely worth a look.
The blade steel is VG10, and has held its edge for a good amount of time now even after doing a few medium/heavy duty tasks. The full flat grind on the blade is perfect as well. Unlike some of the FFG blades on Spydercos lesser models. The length of the blade is 4 3/8 inches so it does stand out when you open it up.
The handle features full steel liners that are skeletonized. The G10 on the handle is also excellent. Not too smooth, but not overly aggressive. The locking feature on the knife is a lock back design. This knife is solid when it locks! Don't let the length of this knife fool you either this is a very thin knife. You won't even notice it while it's in your pocket.
The pocket clip is mountable on all 4 corners of the knife. I have noticed some wear on the clip itself from riding in pocket. The black oxidation has began to come off.
This knife could come off on some to be a little big for a EDC blade. It is named "Police 3" for a reason, but there are also people like myself who don't mind carrying around a larger blade in their pocket. Overall I don't regret the purchase of this knife at all. Worth the $119 I picked it up for.