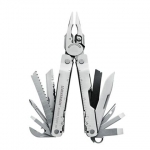 -Price Paid: $55.00
-Used for Every Day Carry
-Owned for Less than 1 Month
Comments:
This is my latest Leatherman tool. Even this has been on the market for quite a while, I have stayed away from the bigger tools. After getting to know/used to Surge I finally gave up the thought that bigger multitools were clumsy.
Supertool 300 has your basic set of fixed tools and familar locking system. It feels solid in hand, it's well built to stand abuse. What makes this stand out from the other Leatherman, are the changeable wire cutter blades. So if you try chewing something tougher/bigger than the cutters are made for and ruin the edge, just buy a new set of blades.
For a tool this size it has surprisingly agile pliers that can fit in a tighter space than Surge or even the Charge series.
If you are looking for a tough multitool with reasonable price, Supertool is your thing.