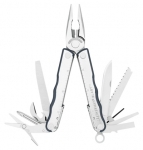 -Price Paid: $52.00
-Used for Every Day Carry
-Owned for 3 months
Comments:
First off in twenty years I have worn out two Leatherman. I am highly disappointed that the pliers are made in Mexico and the blades overseas. Assembly is supposedly US. All these years they lied to us, but they state it is ok because the quality is as good as US and anyway they are better than the Chinese knockoffs. Lets tell the truth. Leatherman is prior to any of the Chinese knockoffs so their claim is bogus. They lied to America to make a profit. After losing a California lawsuit they no longer can claim US made if they want to sell in California. So because the public is confused they state they will no longer make the US claim.
Now to the review. It is big and bulky and no longer nearly as convenient to use as the original products. The quality is not bad and unlike the original WAVE, they are not finger pinchers. My Gerber is probably the worst finger pincher made. The saw is very good, the file is unfortunately not nearly as good as on the PST II. The scissors work ok but are smaller than previous models. The phillips is excellent. Still comes with a can opener, why? Eyeglass tool looks impressive. Knife as in previous models has little value except for butchering yourself. The Mexican leather sheath has protruding rivets that require the Leatherman bolster area to be beveled with a file to get proper insertion. Once thats done it fits in ok other than rattling around noisely when you walk, which can be cured by flattening the sheath to make a better fit. Would I buy another--not if I could find another new PST II. Original Leatherman was Mexican/Japanese, now they are Mexican/European. I'm disgusted but with very little competition what can we do. The US Government bought thousands of these prior to the source disclosure.
---
Comment by Terry Weed 12/28/2012
Right on review except as to the sloppy pouch. I found paper towels folded and stuffed in the bottom took up the slop. Wow. I sent my Blast in due to sloppy workmanship and was sent a used but supposedly refurbished PST (the original and much cheaper than the Blast)as a replacement. So much for the warrantee. So now I have replaced it with a Rebar. Talk about a misnamed product. They should have named it Fubar.