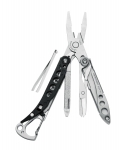 -Price Paid: $20.00
-Used for Light Duty/General
-Owned for 3 months
Comments:
I got this just because it looks so cute (and I really like Skeletool/Freestyle looks). The main idea again are the pliers with small (but good) scissors and a file/flat screwdriver.
For me this tool was very good except it was missing a vital tool: the blade. I really wonder why Leatherman decided to opt out an important part of an multitool. For me this had been a deal breaker unless I already had planned ahead and as soon as I got the tool, I used a grinder to sharpen the file part on one side to have some cutting power (mostly cardboard boxes and tapes holding them fast).
---
Comment by Richie 02/25/2015
No blade makes it TSA compliant; i.e. you store it in carry on luggage. That's why I bought it. Now if only they had included a corkscrew...