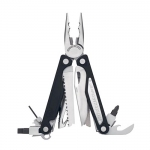 -Price Paid: $90.00
-Used for Every Day Carry
-Owned for Greater than 1 year
Comments:
After my good ol' trusted PST died (was able to break the pliers) I had to get a new Leatherman and it was very easy to choose which one.
Because I'm always tinkering with stuff I needed a multitool with bit set and Charge ALX is the only multitool with 3 replacable bits.
One thing I really like ALX is the seat belt/gutting hook on the serrated blade. It also works excellently in opening boxes or shrink-wrapped products.
For me, this is the best price/value of Leatherman tools
---
Comment by Miika 02/14/2013
The bit kit holds them pretty tight as do the multitool itself. Never worried about losing the bits and so far haven't lost one. On the other hand, I have 1 3 bit kits so losing one wouldn't be the end of the world... And you can get a completely new kit pretty cheaply on ebay.
---
Comment by Schwarz 02/14/2013
So do you worry about losing the bits ever?