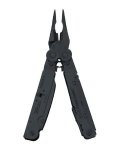 -Price Paid: $120.00
-Used for Every Day Carry
-Owned for Greater than 1 year
Comments:
I'm a multitool person and I own 11 of them, so here's my 2 cents of SOGs multitool.
Firstly, it's quite heavy 272g (9.6oz) and large at closed size of 117cm (4.6") which makes it even larger than Leatherman Surge.
PowerAssist has 15 tools (by SOG) and what makes it absolutely versatile is the ability to change the tools to make it more suited for your needs. For me a metal file is pretty much useless so I replaced it with a wirestripper.
PowerAssist stands out in other area as well and it's the pliers, that has 1:2 gear ratio (=1 lb force applied to handle translates to 2 lbs force at the plier end).
PowerAssist also has two assisted blades, straight and serrated, which requires some space = lesser amount of tools. The assisted blades have two locking mechanism: one to keep the blades from opening and the other to keep the blade from closing.
The tools are back locked or as SOG says: piano locked. Every tool has its own lock, but they work like back lock.
For this price I find this multitool one of the best I've used.