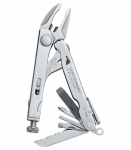 -Price Paid: N/A
-Used for Light Duty/General
-Owned for Greater than 1 year
Comments:
I have had it for 12 years now.
The pliers work fine, the steel is very good, they show some rust, (i have always lived in the mountains away from the sea air).
The philips driver is made of cheap steel, wore out the first time i used it. flat drivers and file are fine. the knife is ok, have never sharpened it but it works ok.
has a serious design flaw with the small tools, when you open them the bolt interferes with them, making knife almost useless.
The locking pliers work ok. after all these years, the only value of use the tool has is the locking pliers. wich are ok.