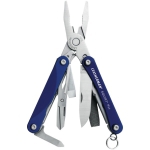 -Price Paid: $30.00
-Used for Light Duty/General
-Owned for 1 year
Comments:
I bought one of these to take to South America with me on travel. I wanted something small that I could keep in my pocket. Additionally I wanted something that wouldn't alarm somebody is countries where knife use is not as common(or even illegal). Since I'm not familiar with the knife laws in many of the places I visited, I wanted something with a very short blade, and I wanted something with no locking feature.
The Leatherman Squirt(I chose the PS4 because I like the pliers) has been just the ticket. It has been very durable, easily concealable and any time I pull it out nobody bats an eye.
The tools it has are a knife blade, a nail file(that doubles as one size of flathead screwdriver), a bottle opener(which doubles as a smaller flathead screwdriver), a pair of scissors, an even smaller flathead screwdriver(that doubles as a wedge), a small set of pliers, and wire cutters. By far the unspoken hero are the wire cutters. They are easy to miss when first looking over the tool, but I use them all the time. Most frequently I use them to cut the ends off guitar strings after I restring my guitar.
Another thing that is difficult to notice when viewing pictures of the multitool is the texture on the grip. In the pictures it looks very smooth, but it is actually a little bit porous, which aids stability when I am using my squirt with sweaty hands(this happens frequently in South America near the equator).
If I had one complaint about the squirt ps4, it is that the keyring on the tool isn't particularly robust looking. I don't attach mine to my keys, so I have not been able to test this hypothesis, but compared to the rest of the multitool this feature looks a little underbuilt. I suppose that it doesn't have to withstand a great amount of loading, but it wouldn't have killed Leatherman to use slightly thicker steel on the loop, that's all.
Overall I recommend this multitool to anybody who needs to small multitool that prefers the look of a Leatherman over a swiss army knife, or to anyone who would find a small set of pliers useful when carried on their person at all times. I think Leatherman did a nice job with this one.