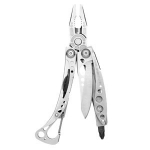 -Price Paid: $70.00
-Used for Every Day Carry
-Owned for Greater than 1 year
Comments:
Skeletool is my most used tool around the house. My basic needs are a knife, pliers and a screwdriver and this tool fits the bill. It has one bit driver and two two-sided bits (different size flat/phillips). One is on the bit driver and one slips into the handle.
Skeletool isn't those tools that features a toolbox full of different tools but relies on three basic tools. This makes it very light and a pleasure to carry around.
The original Skeletool featured straight blade but nowdays the serrated blade from Skeletool CX is found on Skeletool and vice versa. Skeletool and Skeletool CX are identical except for the blade and the frame. CX has some Carbonfiber decorative plate, but it is actually just as light as the plain Skeletool.
If you only need these three tools, Skeletool is your goto multitool.