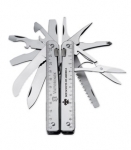 -Price Paid: $85.00
-Used for Every Day Carry
-Owned for 3 months
Comments:
As a fan of Leatherman multi tools I compare other similar tools to them.
Spirit is excellent tool with sturdy build and good ergonomics. I own the Spirit I which differs from the one pictured here by not having scissors (replaced with a file) or the ruler on the handle.
Weight/size/tool ratio is what I'm used to so it feels just right. It doesn't have removable bits so you don't have to worry about losing them. Build quality feels solid (no clap, locking mechanism works well, handles don't bend too much when applying force on the plier).
Only complaint is the rather steep price. You get equally good tool from Leatherman cheaper. But if you are anti - Leatherman, Spirit is an excellent choice.