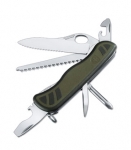 -Price Paid: N/A
-Used for Every Day Carry
-Owned for Less than 1 Month
Comments:
In my quest for a practical no-nonsense pocket knife with a serrated front and plain edged rear blade, I found this pocket knife.
The "Soldatenmesser 08" in Swiss Army nomenclature is a well thought out, sturdy, nicely finished knife. All 6 folding parts work properly.
The Soldier Knife 08 features an 111 mm (4.4 in) long ergonomic handle with two-component polymer grip shells and a double liner locking system, one-hand 86 mm (3.4 in) long locking partly serrated drop point blade, wood saw, can opener with small 3 mm screwdriver, locking bottle opener with large 7 mm screwdriver and wire stripper/bender, reamer, Phillips (PH2) screwdriver and key ring. The overall length opened is 197 mm (7.8 in) and it weighs 126 g (4.44 oz).
The blade can be opened with one hand by an adult user and works equally well for left and right-handed users. In addition, the opening hole offers the possibility to open the blade with gloves.
When the blade and the bottle opener with 7 mm screwdriver and wire stripper are locked by the liner locking mechanism the locks produce a clearly audible click.
The handle is composed of multiple materials. The black outer edge of the scales is made of an anti skid polymer. The inside of the scales is made of smoother hard polymer, with included slightly elevated black anti skid materiel parts. This combination of materials provides sufficient grip with dry and wet hands.
A critical remark that could be made is that the Phillips screwdriver does not state it has a PH2 head. Losable components that could weaken the grip, such as tweezers and a tooth-pick, are absent in this knife.
---
Comment by Hieu Nguyen 09/20/2013
I'm using more than 1 year Victorinox Soldier Knife, very nice EDC