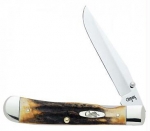 -Price Paid: $125.00
-Used for Light Duty/General
-Owned for Greater than 1 year
Comments:
This is probably the most beautiful knife that I own. I have a leather sheath that I carry it in. From the factory, it was razor sharp, the blade opening is so smooth, and the quality of the stag and fit of the bolsters is amazing. The liner lock holds the blade very securly and has no play whatsoever.
I call it my "Sunday Go To Meeting Knife" I usually only carry it whan I am going to more formal functions i.e. Church, Boy Scout Court of Honors etc.. I was hesitant to put much hard use on it but as is always the case, most of the time I am the only one with a pocket knife available. While it hasn't been used on camping or fishing trips, it has been used for so many other things around the house or on outings.
I have always been a fan of Case Knives and the Stag Trapper Lock is a show stopper.