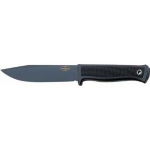 -Price Paid: $114.00
-Used for Outdoor/Survival
-Owned for 3 months
Comments:
I was expecting a lot from this blade, but I was very underwhelmed when I got it out in the woods. The problem is in the handle and sheath options. I would pass and go with the S1 model.
---
Comment by H.A. 07/15/2015
The review is for a Fallkniven S1 and the reviewer concludes by suggesting going for the... Fallkniven S1 instead?Some confusion there.