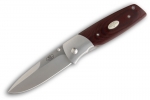 -Price Paid: $410.00
-Used for Every Day Carry
-Owned for 3 months
Comments:
I'm from Italy (i tell you so you can understand the atypical knife price and the strange english...)
This knife is amazing.
I have it with the Ivory micarta handle; you can feel quality in every detail.
It's a real EDC: the knife has a clip and you can open/close it easily with one hand. The blade is so smooth when it comes out and you feel a reassuring nice clang when it is in right position.
The steel is 3G like vg10, but harder (61 vs 59 HRC)and with better edge retention (probably not easy to resharpen...)
The liner lock is a bit thin but doesn't change the overall toughness. The only con of the knife is the weight: 180 gr (near my buck 110- 210 gr).
I recommend this knife for collection and for a tough EDC