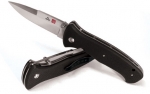 -Price Paid: $165.00
-Used for Outdoor/Survival
-Owned for 3 months
Comments:
Got this knife from knifecenter.com. As expected,it is a very well made blade just like most of AL MAR's knives. The folder open fast and action is silky smooth. The blade steel is super sharp and line up right in the center.
I like the G10 grip (I had the original one years ago with wood grip, which was too slippery!)it stick to my hand wet or dry, and the blade could easily switch from a forward grip to a reverse grip.
The overall construction of this knife is like a tank, the lock up is tight and no movement at all.
If you like a factory made knife with custum feels, this should be the one to get!