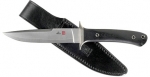 -Price Paid: $350.00
-Used for Other
-Owned for 3 months
Comments:
I've always wanted one of those gorgeous, Loveless styled custom boot fighters, but I could never justify the multi thousand dollar price tag. The Shiva is the perfectly executed, production version of that Loveless type knife. The fit and finish is excellent! The materials used are well established in the knife making industry. For the $350 I paid, the knife is well worth it!
---
Comment by Phil 05/02/2015
Agreed, stunning!
---
Comment by Matthew 05/02/2015
This knife is absolutely beautiful.