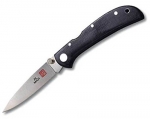 -Price Paid: N/A
-Used for Light Duty/General
-Owned for 6 months
Comments:
I own over 100 knives. I've searched high and low for the perfect general duty/EDC knife. After over a decade of carrying nearly a plethora of different knives, I think I may have found the perfect EDC.
The Al Mar Falcon Ultralight is so short, so thin and so light that from day one, I literally did not know I was carrying it. This knife is so unobtrusive, I have to physically check to see if I have it with me!
Furthermore, this knife is very pleasing to the eye, and the design is very functional. Fit and finish is some of the best I've seen on a production knife.
There are a few--not so positive things, but they are not deal breakers. The blade is Aus8 steel; it's on par with 440c, so it's not great, but it's still good and acceptable. The knife is of pinned construction and cannot be taken apart. In the end, the negatives do not outweigh the positives.
This knife is definitely a keeper.
---
Comment by Keith 06/15/2015
Just thought I'd add a little update. I'm still carrying this knife; it's like you always have a knife on you, but it's so insanely small, thin and light that you don't have to carry anything.