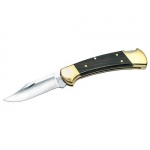 -Price Paid: N/A
-Used for Every Day Carry
-Owned for Greater than 1 year
Comments:
This knife has durability. I use it from hunting to self protection. In my opinion, it is one of Buck's best knives. It was my grandfather's knife before he passed. It still looks brand new though.
---
Comment by S Liner 05/24/2014
Great knife! I've carried a Ranger, 112, for over 40 years. It's been on my belt during forest fires, SAR work, family camping trips, and outdoor work.It's what other knives wanted to be in the 80's and 90's. You can't go wrong with the Ranger. It rates a "10" across the board for an outdoor knife.