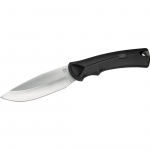 -Price Paid: $22.00
-Used for Outdoor/Survival
-Owned for Greater than 1 year
Comments:
Surprised not to see the Bucklite Max (fixed and folders) in your reviews.
I have a great, light, fixed blade (full tang) knife (the 679)for camping, fishing, and hunting. Liked it so much, I put a small Bucklite fixed blade (673)in the car for emergencies, and another large Bucklite fixed blade (679) in my emergency stash.
Overall, this is a typical Buck knife; which means you have a great, useful tool...strong, sharp, and versatile. The Bucklites are strong, inexpensive and feel great in your hand. Don't know about batoning, as I use other tools to split wood...however, due to the number of pseudo-woodsmen/survivalists doing it on You Tube, I gave it a try. Works just fine, but again, there are better tools for splitting wood and cutting paper.
If I had one request, I'd like a choice for sheaths. I personally don't care for the ones I received with these knives...yep, I have three Bucklite fixed blades now to go with my 119 and my 40-yr-old 112.