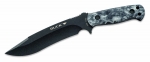 -Price Paid: $60.00
-Used for Outdoor/Survival
-Owned for 6 months
Comments:
The Buck Reaper is one of the funnest knives I have used. The unique design makes it able to chop extremely well for its weight. The ergonomics are great for my large size hands. The sheath is a joke and costs about a dollar to make. The 420HC that the blade is made out of has a great heat treatment so it holds and edge well and is easy to resharpen (for a budget steel). This would make a great wilderness/tactical blade.
---
Comment by Winston 03/02/2016
I paid $38 tax for my Reaper at wally world.Mine came with a rosewood handle instead of nylone and mine had NO lanyard holes.The 420hc steel has that type of blade coating that sorta has that"apshalt" like texture,but after going thru apprx. a cord of wood the only "scuff" marks are at the grinds,and where the baton struck.I've NEVER chipped or rolled the edge and it's been thru knots in ash,maple,oak,hickory,cherry,some of the hardest woods around.As for the sheath,mine is made in CHINA and is nylon with plastic insert.Holds the knife snug,but does have slight rattle,when strapped it cant go anywhere.It hangs nicely on side with the handle almost parallel with belt line,unlike some that ride way too high,are uncomfortable,and has the knife handle poke you in the ribs..There's NOTHING wrong with the quality of the sheath as i find it MUCH more comfortable,and easier to withdrawl and insert knife as Kydex sheaths are.For under $50 this is a winner!!!