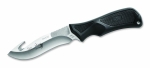 -Price Paid: $50.00
-Used for Light Duty/General
-Owned for Less than 1 Month
Comments:
This knife looks a whole lot better in the pictures but when I got a hold of it the experience was a bit of a let down.
I don't like handling a knife that's very light and this one tips the scale to 5.5 oz making it just a tad too light for my taste. Lightness makes a knife feel cheap and flimsy.
Second thing I'm not very excited is the handle. It's a tad soft rubbery -like material with coarse parts but you still can't take a good solid grip on it. Good thing about the handle is that it has additional support when you are holding it in your fist blade down (right handed) making it able to add more penetration power.
The shape of the blade was the main reason I bought this one. That little curve makes it quite effective when whittling. There are some notching on the top of the blade right in front of the handle where you can rest your thumb for more accurate work or using that for notching (used in traps).
If I were a carpenter, this would be my choice of a knife, but I wouldn't rely solely on this when roaming through the woods as it lacks hacking power.