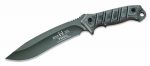 -Price Paid: $100.00
-Used for Outdoor/Survival
-Owned for Less than 1 Month
Comments:
I really hoped this would be the knife to end the search for replacing Cold Steel SRK but..
I like the knife having certain size weight ratio which Thug misses about 70grams. Even the blade is full tang it's not actually full steel under the handle but more like a skeleton. This was probably done to cut down the weight but because of that the knife loses a lot of cutting/hacking power. The good thing about the skeleton style is that you can easily replace the micarta handle with paracord lacing. Also reduced weight on the back moves the balance right at the choil point which makes the knife usable for finer work.
Handle provides a good grip whether it was pouring rain or dry. The so called 'shock absorber' (thin red cardboard - like layer) is not really doing anything (like it's not on TOPS knives either) but it gives the knife sexier look.
I like the MOLLE compatible sheath even if the blade rattles around a bit (was easily fixed). The idea of having a small pouch on the sheath gives you the opportunity to carry a fire starter and a small sharpener with you. The sheath comes with some paracord wrapped around so this set is pretty complete survival knife.
... But still my search continues =)