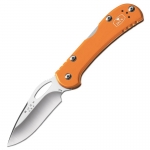 -Price Paid: $32.00
-Used for Light Duty/General
-Owned for 1 year
Comments:
This review is actually detailing the Buck Spitfire. There was only the option for Mini-Spitfire available. That said, I doubt there's much difference in actual design of the knife between the different sizes.
The Buck Spitfire is, without a doubt, the worst built and designed knife that I own still. And it all comes about from lazy and uncaring engineering and build. I would not be surprised if this knife was compromised by upper management or accountants to eek out as much money as possible from a USA produced knife.
Let's get the blade out of the way. In my opinion, it's the only decent thing on the knife. 420HC steel isn't exactly stellar, but Buck does a wonderful job with their grinding and heat treatment (if you're wondering, no, this does not have the iconic BOS heat treatment like many of the Buck Vantages, ect.). It arrived sharp, was ridiculously easy to sharp and sharpened quickly. It's probably the only thing that Buck got right on the entire knife, which is not surprising because this is what Buck excels at.
That said... My god, this knife's internal design is a train wreck. How? What if I told you this knife was washerless? No. I'm not kidding. There's no bearings. No phos-bronze. Not even nylon. Nothing. Having taken my apart (MORE ON THAT LATER), I found out that the inside-facing sides of each scale are milled out. Inside of them go steel inserts that "ride" in the channel that's milled out. I say "ride" because they move. They have to, the tolerances would have to be INSANELY tight for them not to. So... Buck basically designed a knife that has blade play as a feature, intended or not. Gee. Thanks. And, yes, you will have blade play. I have the pivot on my Spitfire tightened to the point where I can barely open it and you still get up and down play (the worst of all).
Adding to this, the lockback back spring is pathetically weak and doesn't securely hold the blade locked. This is the only lockback I've ever had where I can push the knife blade "up" a couple of millimeters past where it would be allowed to travel if it had a stop pin (a'la Tri-Ad lock). I've used $5 Chinese lockbacks that were more secure and safer than this. I would not trust this knife for serious tasks at all. I won't say it's unsafe, but I would not trust it personally. Your mileage may very. Do what you want, but know the situation before hand.
(By the way, the lockback bar is also the thinnest - in thickness of metal stock - that I've ever seen on a lockback knife this small. Not only are you trusting a terribly weak spring to keep your fingers safe, but also the world's puniest locking bar.)
I would urge you, PLEASE, do not buy this knife. Look at Buck's Vantage line. It's only a few bucks more than the Spitfire, but you're getting a much better knife. I own a Vantage Pro. It's probably one of the best S30V knives for the money that you can get, and it's only around $60. The 420HC Vantages are around ~$40 or so. Probably less if you shop around. Get that instead. Please. Save yourself some frustration and vote with your wallet.
---
Comment by R.A. Harkness 01/24/2018
I have one of these Buck Spitfires and it does not have the defects mentioned by this author. There is no blade play, either up and down or sideways. It has a strong back spring. The lock up is solid in the open position. The lockbar is not too thin. While the fit and finish is not up to that of the more expensive Spyderco and Kershaw models, the knife is quite serviceable for EDC and fairly hard use. The blade seems to be properly heat treated and holds an edge for a decent period and sharpens readily. I would prefer a flat ground blade, but that is just my personal preference based on my specific uses. If you can get this knife on sale, buy it!