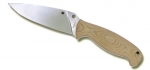 -Price Paid: $200.00
-Used for Outdoor/Survival
-Owned for 6 months
Comments:
This is a big knife. So big in fact, I call it a half sword. That said, it carries easy and makes a great outdoor camping, survival, hunting knife.
The steel keeps a great edge yet is easy to resharpen when needed.
The fit and finish are excellent and the scales are very grippy.
The only draw back is the plastic sheath. It does the job but a knife this nice deserves leather.