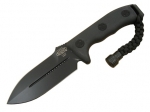 -Price Paid: $225.00
-Used for Outdoor/Survival
-Owned for Less than 1 Month
Comments:
Very nice! One of the best feeling knives you'll put in your hand. A little big for EDC but I do anyways. Best thing is that you have both a dagger and a good slicer. The crosshairs has a nice belly to it as well as a good sharp point. You get the best of two worlds
---
Comment by LARRY HAAS 11/22/2014
Just got one. Not quality at all. The handle by thumb ramp have a gap both sides. The attachment on the sheath belongs on a G I Joe set. FAIL! A lot better knives then this tank.
---
Comment by matt 06/24/2013
Had this for a year now. Great knife. A bit heavy, but razor sharp, and awesome geometry. Really a fighting knife - and would be hard to beat if you needed to open up a two legged varmit. But could also be used for hunting/survival in a pinch.
---
Comment by steven stanley 02/23/2013
I have this knife and I like it a lot. It is very solid feeling in the hand and it is razor sharp.