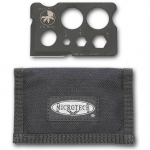 -Price Paid: $40.00
-Used for Every Day Carry
-Owned for Greater than 1 year
Comments:
I have been carrying this in my wallet for 3-4 years. I wore out the original wallet it came with and replaced it with a maxpedition. The old wallet was still functional but my son wanted it. However, the inside oocket from putting the knife in and out was showing wear. If you can still find these, grab it. Worth every penny.
The blade is pure titanium, non magnetic. It is very light and after constant cutting, still sharp. The comfort is, this knife is so politically correct and it's always there. I have used it more times than I care to count. I forget it until I need it. If I could find another one, I would buy it.
It's easy to hold, easy to use. It holds an edge and tough.