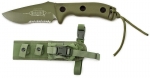 -Price Paid: N/A
-Used for Outdoor/Survival
-Owned for 1 year
Comments:
I own several Microtechs. I have owned Microtechs for about three years. In general, Microtechs are generally considered a premium knife (read expensive).
The name Currahee means "to stand alone". This type of knife fits that saying quite well. This is a survival/outdoor knife. It has a thick spin and excellent blade dynamics for outdoor chores. It carries well in the sheath provided. The knife came with the Kydex sheath. The fit is perfect and silent. The sheath holds the knife in any position and will not result in a lost knife.
The Currahee is an S30 V blade steel. This blade steel was specifically designed for knives. When heat treated correctly, this blade steel is difficult to surpass in performance. However, very few manufacturers have perfected this process. When this steel is not manufactured correctly, it will chip. Microtech and Chris Reeves have perfected this process. S30V holds an edge and with practice sharpening is on par with BG-42 steel concerning ease/sharpenability .
The handle fits welll in the hand.I can't think of a chore this knife wouldn't excel at. It's weight actually gives the user a feeling of confidence. Blade geometry is excellent. Cost: around $200-$230. Assessment: High value for money spent.
Potential uses: Chopping, digging, prying, skinning, food preparation,-everything. However-knives are not pry bars.