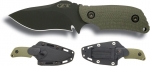 -Price Paid: $120.00
-Used for Other
-Owned for Greater than 1 year
Comments:
superior Knife, very short handle, but super handeling !
Strong like a tank, perfect finish, better than strider,
10000000 times better than the Emerson knifes.
I am sorry but ther are two total different quality levels !
go to your local dealer and check the knife, take a little time
to get the feeling for the short handle, but you will fast understand that the short handle is not a mistake from ZT / Strider, no its perfect.
great controul, graet handeling, sharp blade, made to survive 1000 Years, match better than the made in europe knives (i am from europe..)
---
Comment by Brad 06/27/2015
Hey man, I have the XT 0121, and have had it since 2008! I just finished with survival school and this knife served me flawlessly the entire 9 months. I built shelters, made fire, dug holes, even processes a few animals, it's my favorite survival knife. I have had so many compliments on this beauty. Can't say enough nice things about my knife, and it's not a 6 inch Rambo knife! You can actually have a survival knife that's under 5 inches! Incredible! Thanks for the review, just thought I would double tap the excellence of this knife.