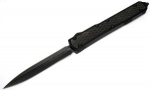 -Price Paid: N/A
-Used for Light Duty/General
-Owned for 3 months
Comments:
The Makora II is the longest current production OTF by Microtech, yet it is surprisingly light.
I have the double plain edge model in S30V with carbon fiber inlays, made in late 2009.
The factory edge came shaving sharp and holds an edge well.
The knife fires hard while deploying and I've only experienced 1-2 misfires out of the hundreds of times I've cycled it.
However, though the handle is relatively slim, it still has a boxy feel to it - though this is unavoidable in many OTF designs.
In addition, when I first received the knife, the switch was extremely difficult to fire. Formed and tore a blister on my thumb in doing so.
The included buckle sheath is adjustable, but it does not feel entirely secure when carrying the knife with the opening/tip down. This is because the top flap of the sheath must rest against the glassbreaker, which does not form an even surface. I've noticed that even when the sheath flap is tightened, the glassbreaker can still shift and in some instances, poke out of the sheath. Losing a 400$ knife to that fault would not be a favorable outcome.
The friction of the firing switch will also wear the anodizing in the channel in which it is housed. The DLC finish on the blade has held up well, although it has a tendency to collect metal residues when it comes into contact with any components from regular friction or a misfire.