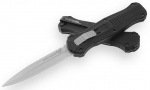 -Price Paid: N/A
-Used for Self Defense
-Owned for Less than 1 Month
Comments:
Let me start off here by saying that I have not purchased this knife (it would be illegal for me to do so), this is purely a review based upon getting my hands on test model that was at my local Gun Store.
Having said that "My God" what a knife with incredible technology behind it and only the highest quality materials used to build it...!!!
The inbuilt Automatic Safety will stop the the blades deployment is incredible stopping dead in it's tracks if it even touches a piece of paper and with a slight flick of the knife it springs into action.
The build quality is indeed world class and reflects the very finest quality that American Knife Making has to offer.
The name may not exactly be "Politically Correct" but who really cares, it is what it is a "Killing Machine" that without doubt could save both our Troops or Police Officers lives in a life or death situation.
The knives action is as smooth as a babies bottom (as the saying goes) and deploys first time every time with Authority.
With a price tag of nearly $400.00 on the surface looks expensive, but when you couple that it's for real life or death situations and the fact that the retail price is never the actual price this can be over looked.
Benchmade does offer special discounts to "Active Military and Police Officers", but this knife is so GOOD they should NOT be having to put there hands in there own pockets to buy one. We ask our brave troops to risk there lives every day for our freedom and this knife should be standard kit..!!
---
Comment by William Ownbey 03/17/2015
Thank you for your review. I have heard an earful from my wife after purchasing this knife for duty. After presenting her with the knowledge of the paper test she has for once had to eat her words. lol